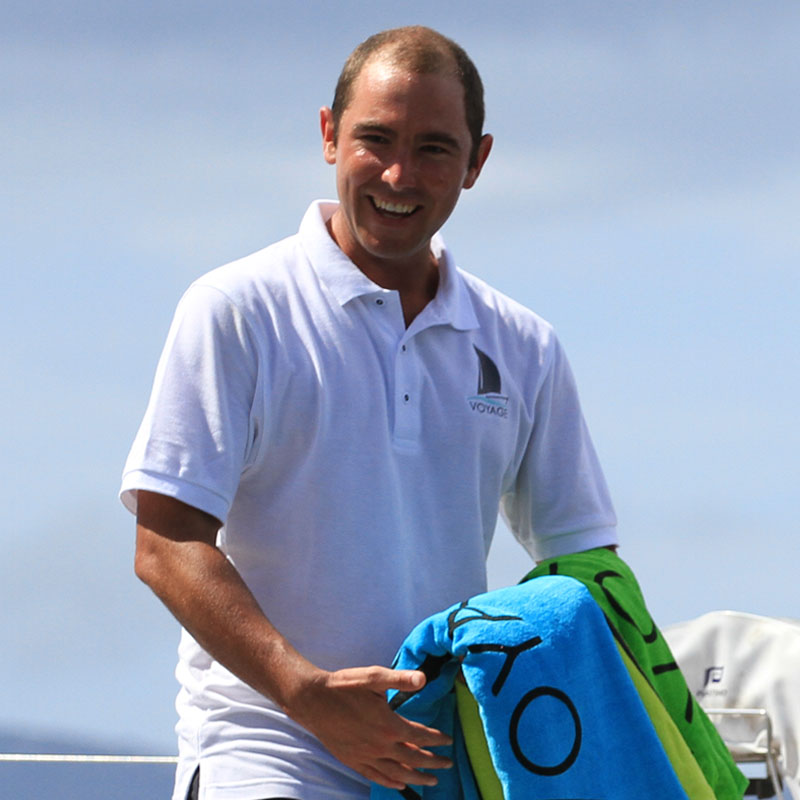 Captain Gavin Van der Berg
Gavin grew up on the beautiful coast of Kwa Zulu Natal in South Africa, so it was only natural that the ocean and sailing became an integral part of his life. Even as a young boy free diving and surfing became some of his passions and hobbies.
Gavin's parents, also very keen sailors, were his motivation and inspiration to get into the yachting industry. Having been around boats since the age of five, the boating world was bound to become his choice of career, so much so, that Captain Gavin went on to become a fully qualified sailing instructor.
Another future goal in mind is that he is determined to fulfil his ultimate dream, that is to one day sail around the world. Gavin holds an RYA/MCA Yacht Master qualification as well as a Chef City & Guilds Certificate in Catering.
Some of his current sailing accomplishments are across the North and South Atlantic circumnavigated the Baltic Sea, three seasons in the Caribbean, two seasons in the United Kingdom and France and up the East Coast of Africa from Durban to Kenya with a stop in Madagascar.
Gavin also attended chef school as he has a keen interest in food hence fishing being another hobby. A man of the ocean and a lover of all things on or under the water, Gavin looks forward to showing his guests the thrilling beauty of the BVI and making your dream Caribbean sailing experience unforgettable.
Interview
It was a dream I inherited from my late father whose dream was to sail around the world.
A secluded bay on the backside of Peter Island.
Out of Office because she is a unique, one of a kind who turns heads in the BVI.
We are a small family orientated operation with great team spirit.
I enjoy sharing my passion for the ocean and all things boating, and I love spending time with people from different professions and walks of life.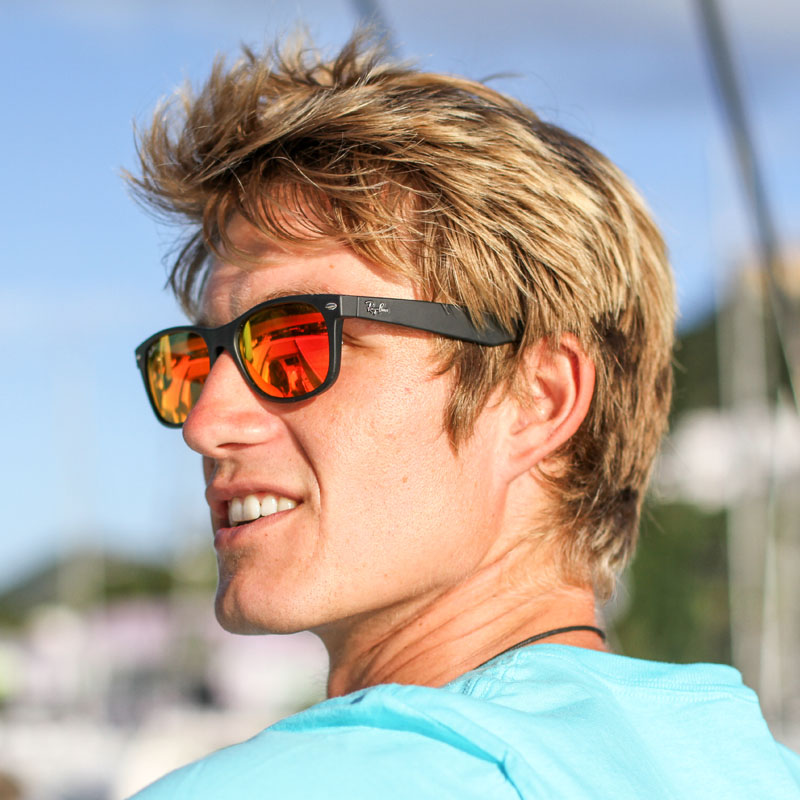 Captain Matthew Dylan Nelson
Matt is a young, vibrant person who grew up in a coastal town in the Western region of Southern Africa. His sporting interests and hobbies reflect his energy, determination and appreciation of physical discipline. Other than his greatest passion, sailing, other interests and hobbies include judo and kick boxing, wakeboarding, water-skiing and surfing.
Matthew loves a challenge and having such an immense enjoyment for the outdoors and with a great passion for adventure, all have all led him to become a qualified RYA Yacht Master. Captain Matt is definitely a team player and is happy to be part of a structured environment. He is quick to adapt and always appreciates variation and diversity.
Matt thoroughly enjoys meeting new people from all over the globe and always aims to make his guests feel welcomed and relaxed. Along with his warm and friendly personality and kind nature you will find him to be an excellent Captain, who eagerly looks forward to sharing the adventure and beauty of the British Virgin Islands!
Interview
Being on the ocean and how peaceful it is.
Very close team of people and the location
Fishing, meeting new people, freedom of operating the boat.
East coast of Canada or New Zealand maybe Hawaii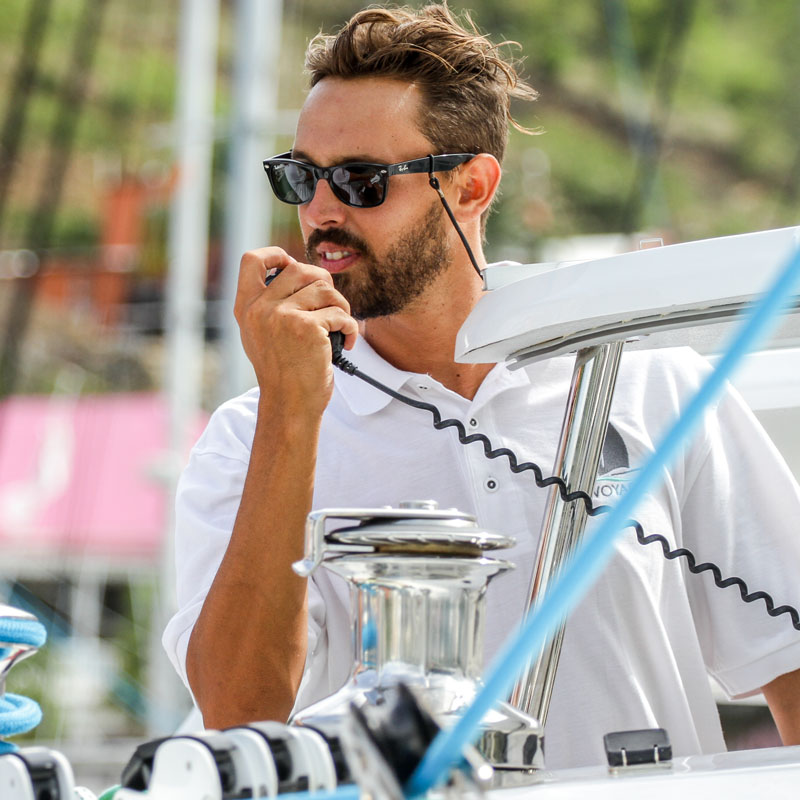 Captain Blade Goodall
With a family history of working in the yachting industry, it only made sense for Blade to follow suit. Blade grew up on and around boats throughout his childhood in Cape Town, but it is his natural charm and warm charisma that makes him such a fantastic captain.
Blade has been a frequent visitor of the BVI from a young age and his knowledge of the islands provides guests with an authentic insider view. Beyond the BVI, Blade has extensive international sailing experience, particularly in the tricky waters of South Africa, also his homeland. He holds an RYA Yacht Master and frequently competed in racing before moving to the Caribbean.
Captain Blade prides himself on his professionalism and strives to exude determination and dedication to every aspect of his life; prior to pursuing his career as a Captain, he was a Professional Sponsored Wakeboarder. He has also worked in the film industry as a camera man, so he can help ensure all the best angles to capture the perfect memory. Wonderful with children and a colorful and engaging storyteller, Blade loves exploring, traveling, sailing and extreme sport. All fantastic qualities in a Captain to ensure the perfect BVI vacation!
Interview
Summer Breez 590, its large and sails fast, it's the newest, with a cool concept.
The team. We are all close with each other's families and with one another.
The feeling of freedom and the feeling of a gust accelerating you faster through the water.
The first charter back after Irma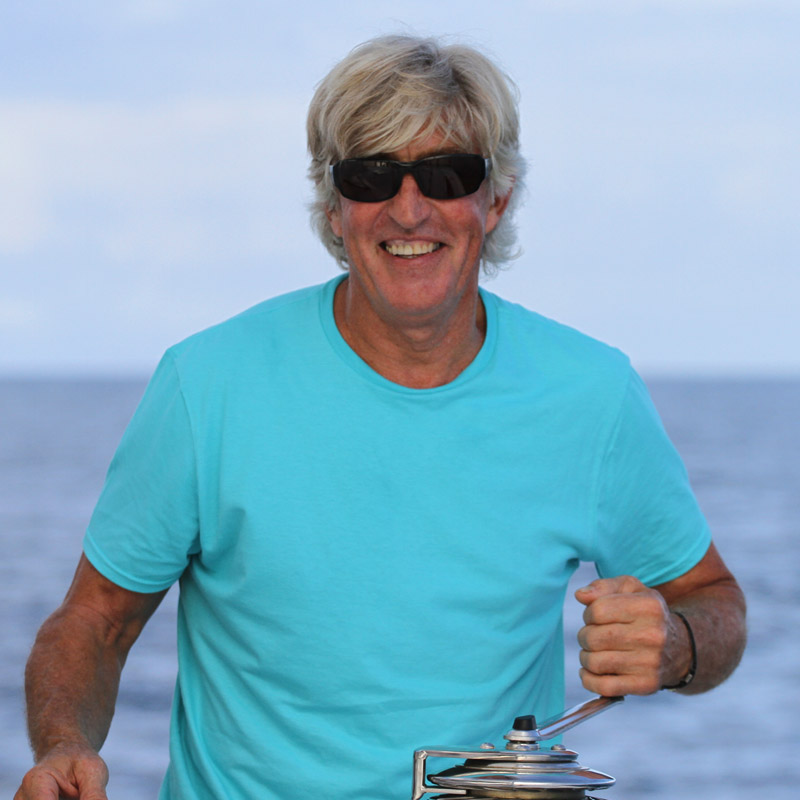 Captain Tim Holt
Tim Holt, affectionately known as "Timpa", is our most senior captain in years but very youthful in spirit. A waterman all his life, surfing up and down the South African coast, only learning to sail later in his life, but has taken to it like a duck to water.
After completing his Captains ticket in Cape Town, Tim honed his skills up the treacherous East Coast of South Africa and then headed to the calm waters of the beautiful Virgin Islands. Captain Tim is now in his fourth season with Voyage charters and remains totally passionate about all that the Caribbean has to offer. He is a man of many talents and enjoys hobbies that include off-road bike riding, carpentry, surfing and diving to mention a few.
If you are a music lover, you and Tim will have much in common as he enjoys playing guitar and even the flute! So, if you enjoy discovering unusual island secrets and ocean treasures above and below "Timpa" is definitely up to it and eagerly looks forward to introducing you to an adventure of a lifetime among some of the most pristine and beautiful island in the world.
Sit back, relax, and enjoy Tim's exceptional people skills and outgoing nature while he ensures that your Virgin island sailing experience is truly a memorable one!
Interview
Off the stormy coast of Cape Town, South Africa.
This is my seventh season with Voyage.
I've always lived by the ocean and grew up in Durban on the East Coast of South Africa, and so I developed a love for the sea at a very young age and when I started sailing, the feeling of freedom with wind in the sails, was overwhelming. I never feel happier than when I'm on the Ocean.
There are so many great locations to choose from, depending on what you are looking for at the time! Anegada for that special secluded experience, The Dogs and The Indians for snorkeling, The Rhone for diving, but little Harbour on Peter Island is always one of my favorites!
Electrified was always my favorite until along came Summer Breeze, tons of space, absolute comfort and luxury, great sailing boat and of course, the silence of the electric engines. Hard to sail on anything else after that, but all our Voyage boats are a dream to sail! Very spoilt we are!
Well, we have the best sailing boats in the charter business, they are so beautiful inside and out, so our guests are always happy and the family feeling you get when you charter with Voyage is unrivaled. Wouldn't work for anyone else.
I love sharing the beauty of the BVI with my guests. Witnessing amazing sunrises and sunsets in beautiful locations, the joy, especially first-time charter guest experience, when you raise the sails and head off into the blue, arriving at new and exciting locations. Spotting wildlife like dolphins, jumping sting rays, turtles and huge tarpon swimming in the blue underwater lights at night, snorkeling over beautiful coral and seeing all the colorful reef fish. The BVI has so much to offer you just can't fit it all in on one charter. Guests return time and again and never get tired of the beauty.
In the end it's about the feeling of giving your charter guest that special holiday of a lifetime and when the charters over, the sadness of your guests leaving but knowing they've really enjoyed themselves is very uplifting. They generally never want to leave!
Probably the Galapagos Islands.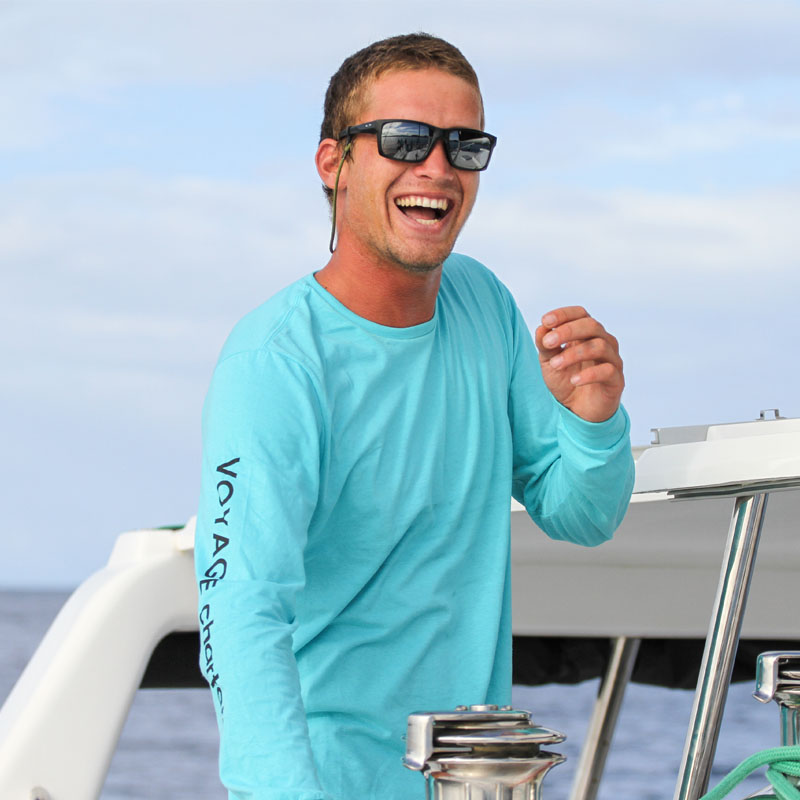 Captain Andrew Smith
Responsible and spontaneous certainly makes Captain Andrew so much fun to be around. With seven years on and off in the yachting industry, Andrew is both an extremely capable and qualified Captain, and a detail – oriented Artisan Finishing Painter.
His childhood was spent perfecting the art of dropping in and chasing the perfect wave, so he learned from a young age the importance of understanding the ocean. While his respect for the sea evolved to include sailing, his passion carried him around the world as a professional surfer for six years and remains steadfast to this day.
Some of his favorite vacation memories include surfing in South Sumatra and Bali, as well as yacht deliveries across the Atlantic and Indian Ocean, with the pacific still on the list! Either way, there was never any doubt that Captain Andrew would build his career around being on the water, if a shark bite scar doesn't make you a water baby, we're not sure what does, but rest assured it wasn't in the Caribbean!
Things are never dull with Captain Andrew around and his guests love his warmth and willingness to go the extra mile.
Interview
I learned to sail in the rough seas of Cape Town, South Africa
The fact that you could go wherever you want to and especially getting away from the normal routines in life.
If the weather allows it, I really like to anchor in Eustacia Sound.
Favorite boat would be No Regrets, but any of the 52's I guess, for some reason I just love the look of them.
Working with a really great team.
I love getting to meet new people.
My favorite moment would have to be when Captain Tim, "Timpa", and I had a tandem charter on the 60's racing island to island.
I would want to sail to Indonesia but starting in panama and hopping all over the pacific until I get there.